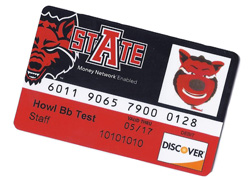 Your physical student ID is your passport to the library's resources. You will need it to check out any materials or to reserve the presentation room.
Logging into computers requires your username and password, the same one you use to access your email and MyCampus account. So, if your email is freshman.student@smail.astate.edu, then to log in to a library computer you would enter:
username: freshman.student
password: supersecretpassword
Your library account can be accessed here. You can see what materials you have checked out, when they are due, and you can renew materials for another checkout period.
Off-campus access to the library requires you to authenticate with your username and password.